BY FAYE VALENCIA  © DECEMBER 23, 2018
IN the acclaimed television series Mad Men, its lead character, Don Draper (Jon Hamm), offers this advice to a female co-worker who just had a nervous breakdown: "Get out of here and move forward. This never happened. It will shock you how much it never happened."
That advice has been echoed—albeit through statements that are far less eloquent—by those who want to revise Philippine history. They want to gaslight an entire nation. In her article for Psychology Today, Dr. Stephanie A. Sarkis explains that gaslighting "is a tactic in which a person or entity, in order to gain more power, makes a victim question their reality." She adds that it is "a common technique of abusers, dictators, narcissists and cult leaders." The process happens gradually, so the victims don't realize that they've been lured to the dark side.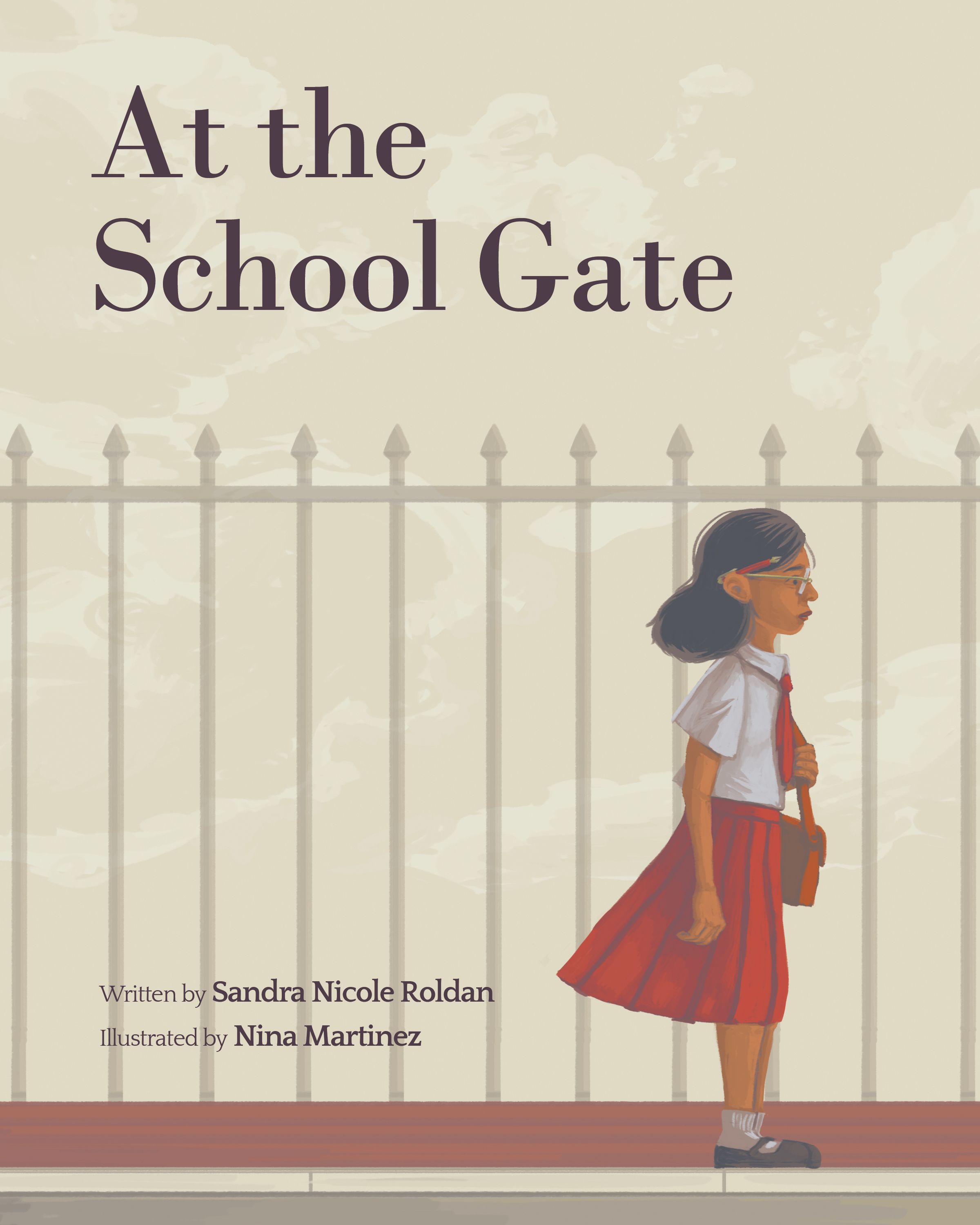 The horrifyingly effective combination of memes and false information has yielded the desired results. The keyboard foot soldiers—who are in charge of manufacturing and disseminating fake news 24/7—have managed to convince a good number of Filipinos that martial law under the dictator Ferdinand Marcos were the "golden years" of the country.
Well, that's not exactly true for those who suffered and who dared to protest against the corruption, cruelty and other anomalies of the Marcos regime. It certainly was not the reality for Sandra Nicole Roldan's family.
Roldan's At the School Gate (The Bookmark Inc.; 40 pages; 2018) is a semi-autobiographical account of what she went through as the daughter of an activist. At the School Gate, for all the heavy issues that it deals with, is categorized as a children's book. After all, as Roldan pointed out during the book's launch, "We, the children of activists, were also part of the struggle."
In fact, At the School Gate's main character, 15-year-old Ella Cortez, reveals: "I was conceived at the Camp Crame Detention Center for Political Offenders one February night in 1976. With Papa in jail, Mama worked as a newspaper reporter. Kuya Marx was only three months old. That day, Mama made a 'conjugal visit' to celebrate Valentine's Day with Papa behind bars. I was born nine months later."
Ella then talks about how her family's house served as a "safe house" for other activists: "Growing up, I remember meeting new titos and titas every week. Some brought papers and talked at our dining table until late at night. Others had bandages on their arms or legs. All of them slept in the banigs in the living room, like a big communist slumber party. Some nights I'd lie awake listening to my new relatives sobbing softly like small animals, or whispering quietly like the wind in the trees outside our window."
During the Marcos years, thousands of activists were arrested sans evidence just because they were branded as "enemies of the State." These activists were then tortured or killed by government operatives, who, at that time, functioned pretty much like Marcos' henchmen.
But Ella's story gets even scarier. She explains: "I thought that period in our family life ended in 1986 with People Power. Everyone flashed the Laban sign, Cory had yellow confetti parades, and EDSA became the most famous street in the world. I was so excited because the Americans on TV kept saying congratulations to the Philippines. I thought it was like winning the Sweepstakes and all Filipinos would become rich. No more beggars on the street or little kids selling sampaguita at night. I didn't know any better because I was only nine at the time. I now know things are more complicated. I should have remembered my Grade Four history lesson: Bad presidents like Marcos may come and go, but they will always remain in power."
Indeed, Ella's father is once again arrested without any warrant by government operatives. Roldan draws from real life with this plot twist. On Aug. 21, 1991, her father, Bobby, was arrested without a warrant at the food court of SM City North EDSA. The men who accosted the elder Roldan were later identified as operatives from the Intelligence Service of the Armed Forces of the Philippines (ISAFP). Roldan says, "In a way, At the School Gate took 28 years to write."
Just like Bobby, Ella's father gets tortured while in military custody. "The writing and editing process was ghastly for me," Roldan says. "This was the time when I would sob while rewriting the story. I was reliving all the trauma as I wrote and edited it."
At the School Gate, by Roldan's estimate, is 80 percent nonfiction. She just changed the names and made Ella "a much more well-rounded person than I could ever be." She also added some elements of wish fulfillment. For one, she says, she had Ella confront the military man who was tasked to do surveillance on her. That man had always seemed to be waiting for her at her school's gate.
Roldan wasn't able to confront the man who kept tabs on her in real life. The surveillance was part of the psychological torture of Roldan's father, as his jailers would tell him that they could "do anything" to her.
It may have taken a long time for Roldan to finish At the School Gate, but the story resonates to this day. The tale is made even more poignant by the illustrations of Nina Martinez. It's a painful part of Philippine history that kids or even teenagers may not necessarily be able to process that well yet. Then again, when do kids stop being "too young" to know about the Big Bad World we live in? At the School Gate tries to break it to its young readers gently — but there's just no way to make fascism and military brutality look pretty.
When we look at the big picture, At the School Gate is part of a worldwide trend of political children's books. In her article for The Guardian, Zoe Williams noted: "Children's literature with a progressive political bent was traditionally frowned upon—often held to be 'politicizing,' and thereby exploiting the malleable young mind. That has been turned on its head. It's not so much that authors don't recognize the politics in their own work; rather that they have decided, en masse, that the miniatures are ready for it."
Parents who want to raise woke Filipino citizens should definitely get this book for their children. The young ones might as well be ready to deal with real-life villains.
At the School Gate costs P195. For more details, visit www.bookmarkthefilipinobookstore.com.